April 9th, 2008
Cobh pupils find colour ringed godwit during wetland visit!
Pupils at Glounthaune looking at Black-tailed Godwits getting ready for their migration to Iceland.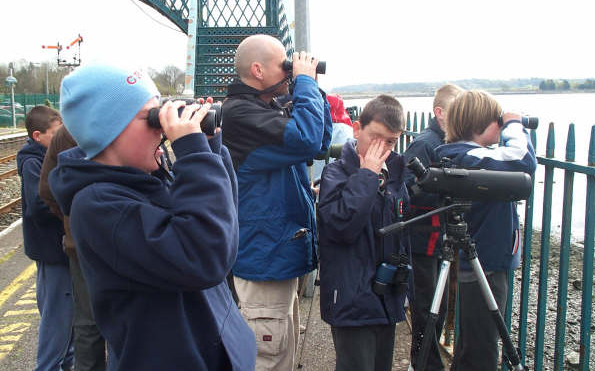 Pupils and Jim Wilson (the bald one!) looking at Red Lime Double Stripe at Glounthaune.
The class went to Glounthaune for their pre-migration visit to look at the godwits. They found over 250 of them in stunning summer plumage and were delighted to find the godwit with the colour rings red, lime, double-stripe! The whole class got really good telescope views of this individual. This and the fact that it was the godwit Becca ringed at Brown Island made it a fitting end to her season. The boys went back to the school buzzing and it is surely a trip they will not forget. This is actually the first time the class have been shown a colour ringed godwit. Not as easy as you think! This event shows how the ringing of even one godwit can be so valuable. Without this godwit, this years class would have slipped by without such a memorable experience, which will affect their view of our wetlands for life.