September 10th, 2008
Satellite Tracking Godwits 'Down Under'
It's nice to know that there are others in the world studying birds like the Icelandic Black-tailed Godwit. In the last few days I got an email about a fantastic project based in Australia. Chris Hassell, project co-ordinator sent us this report: As one aspect of the Pacific Shorebird Migration Project during February 2007, in New Zealand, 16 Bar-tailed Godwits (cousins of the Back-tailed Godwit) were fitted with tiny satellite transmitters (PTTs) to gather data on their northward migration. This study went better than could have been hoped for with the batteries lasting, not only until the birds reached their breeding grounds in Alaska, but all through the southward migration. This wonderful result proved once and for all that the Alaskan breeding Bar-tailed Godwit undertakes the longest single non-stop migration in the bird world. This was best illustrated by the now famous 'E7' as she covered a 29,000 km round trip, from Miranda Shorebird Centre, Firth of Thames on the North Island of New Zealand to staging sites in the Yellow Sea and on to breeding areas in western Alaska before the epic journey back across the Pacific Ocean. The amazing journey included her record breaking, 9 day non-stop trans-Pacific Ocean flight of about 11,600 kilometres!!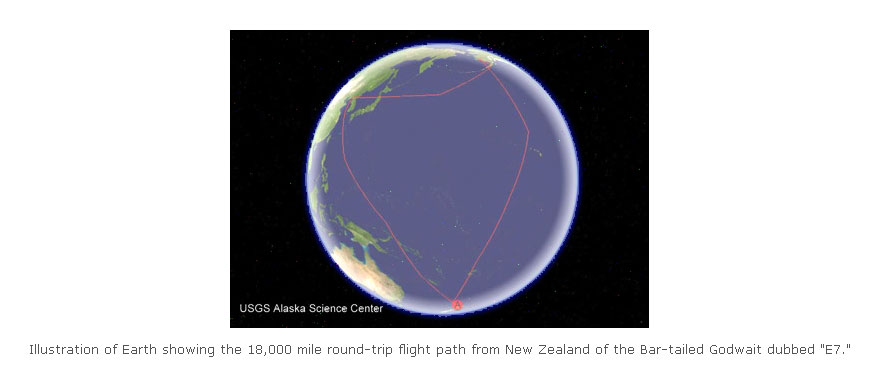 Image USGS Alaska Science Centre
If you want to find out more about this brilliant project click on the link Global Flyway Network
Lets hope it won't be too long before we can do the same with our Icelandic Black-tailed Godwits.