14th October 2008
Sixth July godwit chick is found in Ireland!
Yet another chick ringed by the team led by Pete Potts in July has been seen, this time by Irish wildlife expert and film maker John Murphy at Shannon Airport Lagoon in county Clare on the 7th October. The chick was ringed on the 13th July at Ytribakki, track 812, Hjalteyri, Eyjafjordur, north of Akureyri in northern Iceland.
. This is the sixth godwit chick to be resighted and the third in Ireland from a total of 54 chicks ringed in Iceland in July by the team.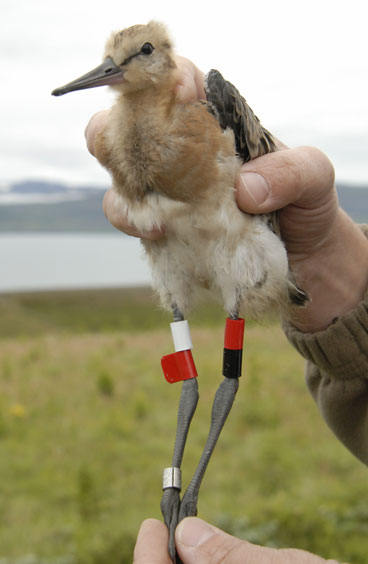 Red Black White Red flag as a chick at Eyjafjordur, north of Akureyri in northern Iceland on the 13th July. (photo ©Astrid Kant)
Click here for Godwit News Archive