29th April 2009
Siglufjördur pupils win national award for the School Godwit Project!
Guðný Róbertsdóttir reports from Siglufjördur - We are proud to tell you that my class ( and the project which we sent to the Environmental Ministry of Iceland) was one of two classes which was chosen as "the guards of environment 2009". It was confirmed on the 25th of April in Reykjavík. Here I send a picture of our award winning class and a link to the Ministry for the environment but it is not in English, there is our picture and picture of the other school which also got a reward - they have been repairing bicycles and giving them to the Red Cross. Bless for now, Guðný.
We are so proud.
Willie McSweeney and his class were delighted with the news and send a letter addressed to the Icelandic Minister for the Environment which was delivered to her at the prize giving last Saturday. The text of that letter is below the class photo below:
Award winning pupils with some of their Jaðrakan (Icelandic for godwit) sculptures. (photo © Guðný Róbertsdóttir)
To the Icelandic Minister of the Environment,
We, the pupils and teacher in Scoil Iosaef Naofa, Cobh, Ireland, are delighted and proud that our friends in Siglufjordur have won this environmental competition. We believe that it is very important for both the Icelandic and Irish governments to do all they can to protect the Godwits and their habitats. In winning this competition the Icelandic government is recognising the important work of the school project. The Godwits migrates from Iceland to Ireland and other European countries so we all have a duty to look after them while they are visiting our countries. In fact, some of the Godwits seen here near Cobh have been ringed near Siglufjordur! Because of this our pupils have learned a lot about each other's countries. We have exchanged pen pal letters, photographs, CD's of traditional music, learned some Icelandic and Irish and have studied and learned about our respected countries.
We have been very lucky here in Cobh to have wildlife expert, Jim Wilson, to help us in our environmental work. Jim has been to Iceland on environmental matters and is going again this year! He has put us in touch with the Operation Godwit team and we have also had great help from Sigga Betta and Tomas Gunnarsson in Iceland. This is a truly international project as people from all over Europe are taking part in the sightings and study of these birds.
But above all this, and I'm sure that Guðný Róbertsdóttir agrees with me, it is the pupils that get the most out of it especially on the days that they go bird watching. It is great to see their excitement when they are looking through their binoculars!
Please check out our website and read all about the Godwit project. In conclusion, thanks again for acknowledging the fantastic work of our friends in Siglufjordur!
Bless,
Slán,
Willie McSweeney & the pupils of 5th Class in Scoil Iósaef Naofa, Cobh, Co. Cork, Ireland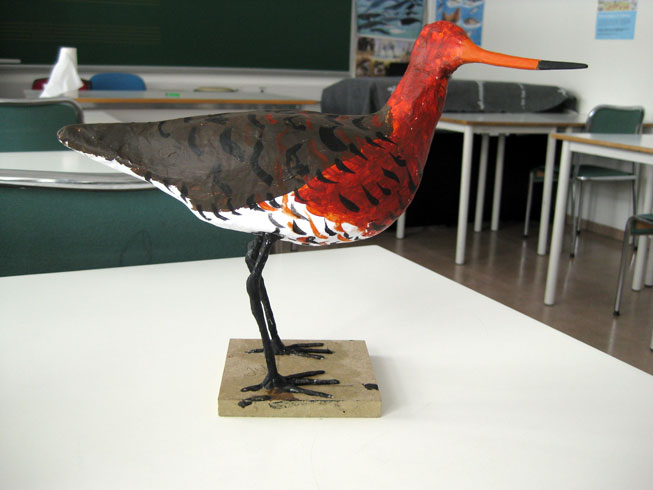 This statue captures perfectly a godwit just about to take flight. (photo © Guðný Róbertsdóttir)