22nd September 2009
Successful School Trip and More Irish Colour ringed Godwits.
This morning Willie McSweeney's class made a very successful trip to Glounthaune, Cork harbour to look for colour ringed godwits. They saw 456 Icelandic Black-tailed Godwits as well as many other wetland birds and all the class got to see colour ringed godwit Orange Lime Orange White X feeding with the flock. They recognised the combination and are sure it is one that has been in Glounthaune in previous years. They will send their sighting to Tómas Gunnarsson in Iceland and wait to see where it has been since it was last in Cork Harbour.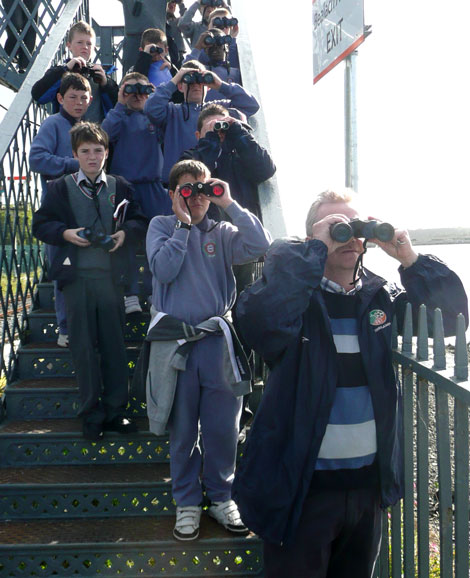 Teacher Willie McSweeney and pupils looking at colour ringed godwit Orange Lime Orange White X at Glounthaune this morning. (photo ©Jim Wilson )
We also got great news from wader ringer Barry O'Mahony. He caught and colour ringed a further four Icelandic Black-tailed Godwits at Lough Beg, Cork Harbour. This brings the total number of Irish (double stripe) colour ringed godwits to seven. You can see from the photo that three of the birds have tan coloured necks and breast. These are definitely birds born in Iceland this summer and have successfully made their first migration to Ireland. The one at the back looks greyer and may be an adult. Well done Barry, more birds for us to look out for!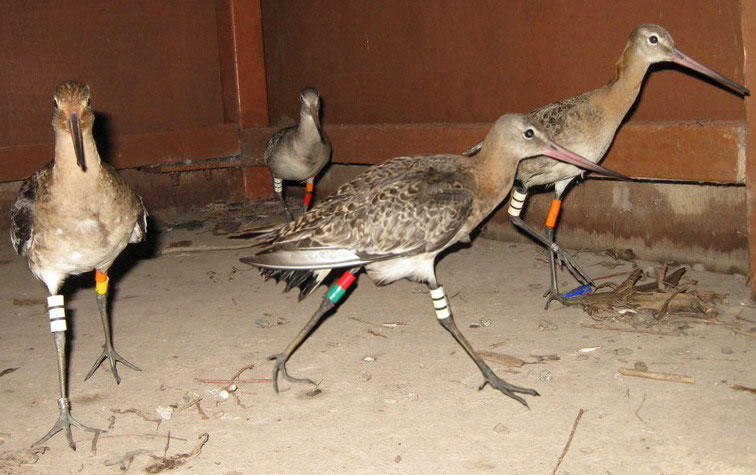 The Icelandic Godwits with their new colour rings which were caught by Barry o'Mahony at Lough Beg, Cork Harbour.
(photo ©Barry O'Mahony)