21st October 2009
Topsham School on the Exe Estuary in Devon, England Joins The International Schools Godwit Project!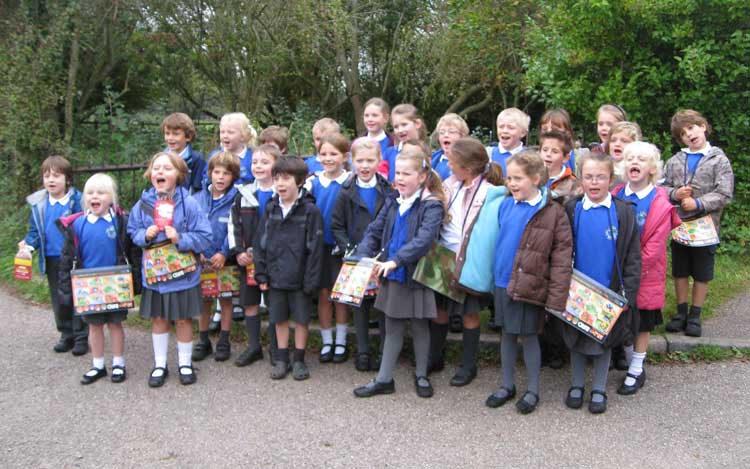 Happy pupils from Topsham School who have joined the School Godwit Project. (photo ©RSPB )
We would like to welcome the pupils of Topsham School and their teacher Justin Vernon to the project. This is a very exciting development for us as another country that plays host to the Icelandic Black-tailed Godwit has joined the project. Topsham School is situated on the Exe Estuary in Devon on the south coast of England. This is a very important estuary for the godwits and colour ringed godwits ringed at Siglufjörður have been seen on the RSPB Bowling Green reserve within walking distance of the school and colour ringed godwits seen in Cork Harbour have also been seen on the reserve near Topsham School in the Exe Estuary. This shows how we are all linked through the godiwts and how important it is for all of us to look after the godwits and their wetland home.
Sally Mills, RSPB Site Manger for the Exe Estuary who first suggested that Topsham School should join the project said "Each year we have hundreds of godwits visit the estuary. Our birds are from Iceland and for a number of years ornithologists have been ringing a small number of chicks on their breeding grounds. Our challenge is to spot these ringed birds and this is why its great to have the children involved." The children first visited the RSPB's reserve at Bowling Green Marsh just to the south of Topsham last week.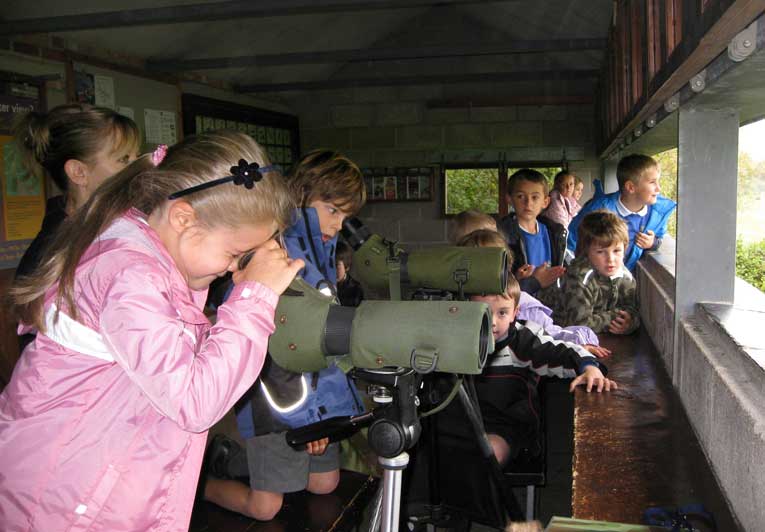 Pupils looking at Icelandic Black-tailed Godwits from the hide at RSPB Bowling Green Marsh Reserve on the Exe Estuary, Devon, England. (photo ©RSPB )
Sally Mills "We took the children into our hide and spent some time watching the godwits. Although we did not find any ringed birds this time, the children will be visiting the site regularly. They have already made contact with a school in Ireland that is doing the same, and will also be talking to a school in Iceland near where the birds breed."
Topsham School were enthusiastic about the project from the start, as it helped get the children out and use their local environment and linked children to children doing the same thing in other parts of Europe.
Class teacher Justin Vernon said: "Operation Godwit is proving to be a fantastic way of developing community links through our curriculum work and it's great to have the expertise the RSPB offers available for our use.
To have a project that develops the children's awareness of their immediate locality and those of other countries is brilliant. The children are really enthused and we're really looking forward to talking to the other members of the project."