Team members in the photo from left to right:
Carol Hird, Daphne Watson, Anne Watson (not related!), Dudley Hird, Tim Walker, Pete Potts, Jose Alves, Hilger, David Price, Pedro Geraldes and kneeling Anne de Potier and Ruth Croger. (photo © Elisabeth Price)
Pete Pott one of the team organisers, holding a godwit in the photo above, sent us this report:
An exciting trip to Portugal to look for Black-tailed Godwits on the Tagus Estuary close to the capital city of Lisbon. Ten godwit experts visited the estuary between 12th and 23rd February and 3 more birding friends joining them later towards the end of the expedition.

All hands on deck! Team members setting a cannon-net. (photo © Manuel Lima)

The team was again based in Alcochete, a very attractive old town on the edge of the estuary with views across to Lisbon and the Vasco da Gama bridge. From here we explored the area and surveyed the tidal bays, creeks and salt marshes of the Tagus estuary and adjacent derelict salinas (salt making ponds) where the godwits and other shorebirds go at high tide to roost.

The team recorded many colour-ringed godwits ringed on previous trips and also some birds marked in Iceland and England. We also managed to make two catches of a total of 29 Black-tailed Godwits and a single Bar-tailed Godwit!

Removing godwits from the cannon net at Corroios with old tide mill and museum in the background. (photo © Manuel Lima)

We had a small catch at a new site at Corroios, at the west end of the estuary, where we caught a few roosting on a salt marsh pond behind an old tide mill that is now a museum.

Our second catch was of 15 birds feeding on a restored salina at Salinas do Samouco which is now run as a nature reserve close to our hotel at Alcochete. Most of these birds appeared to be from the limosa race of Black-tailed Godwit, which breed in central and eastern continental europe, and we caught a Dutch ringed godwit to prove it!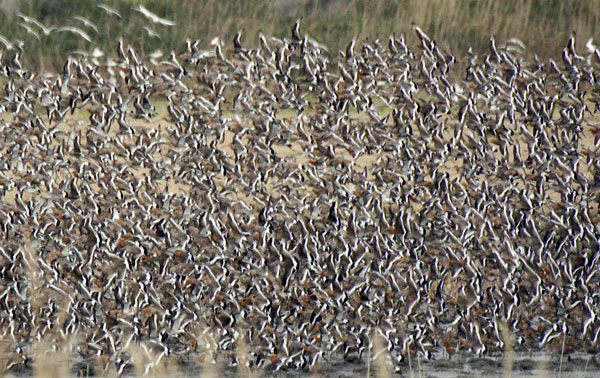 Part of the huge flock of over 27,000 black-tailed godwits seen during the trip. (photo © Elisabeth Price)

The team also visited the rice fields at Samora Correia and those that did witnessed an impressive 27,000 godwits feeding in one flock on one rice field! A small Dutch team were there reading rings and they estimated that c.30% were in fact Islandica (the Icelandic race of Black-tailed Godwit which we see in Ireland, Britain and Iceland) that had joined the limosa race flock when they arrived in Portugal on their way back north from their wintering areas in West Africa in the Guinea Bissau, Mali, Senegal area south of the Sahara Desert.


Ringing, measuring and examining the godwits. (photo © Manuel Lima)
We worked as usual with our Portuguese hosts: Jose Alves who is doing a post doctoral research project on the Islandica race of godwits, Afonso the ecologist who runs the Samouco Foundation reserve and Sara Padal, Miguel Braga and others.

Pete Potts and Jose Alves ran a days workshop at the Samouco reserve on Cannon-netting and wader ringing and the UK team spent much of the next 10 days training the local Portuguese ringers in the art of cannon-netting, which was very enjoyable.

We made 7 small catches of waders catching 203 birds of 9 species. The highlights included catching a ringed Ringed Plover with an Icelandic ring on that proved to be one ringed by team member Boddi Þórisson in NW Iceland ringed at his study site as a chick in 2006 - thanks to the mobile phone and texts we were able to get the ringing details from Boddi while we were still processing it before we released it! The last catch of the trip was one of only three catches over 100 birds we have made since we started to ring there in November 2006 and it was the biggest ever catch of Ringed Plovers (77) in Portugal! We also colour-ringed a few more Sanderlings and caught 25 Kentish Plovers.The Sanderlings are being ringed as part of the international Sanderling Project being run by Jeroen Reneerkens at Groningen University in The Netherlands.
So far we have colour-ringed just over 200 Sanderlings on the Tagus since we started in November 2009 and have had sightings in Mauritania, Spain, France, The Netherlands, UK & Iceland!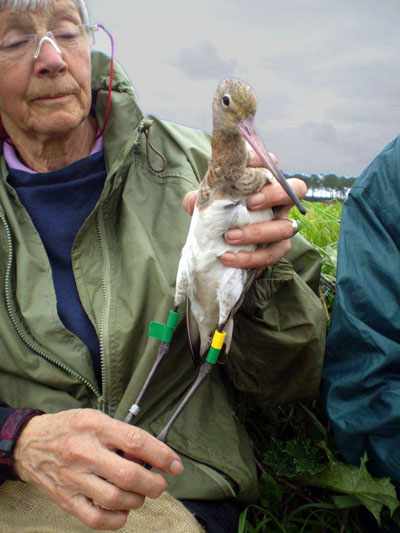 Ruth Croger with a colour ringed godwit. (photo © José Alves )
We equaled the November 2008 trip for number of successful catches although we fired the cannon-nets 9 times on that trip but twice we caught no birds! However, we caught and processed 203 birds this time as against 143 on that trip so well done team!
We also had our second largest Portuguese catch and only the third double figure catch on our trips to the Tagus. The potential for large catches is increasing as we get to know the sites, increasing our knowledge of the tides and how birds use the various roost sites. One day we will strike lucky and catch a lot of small waders for sure not forgetting the godwits!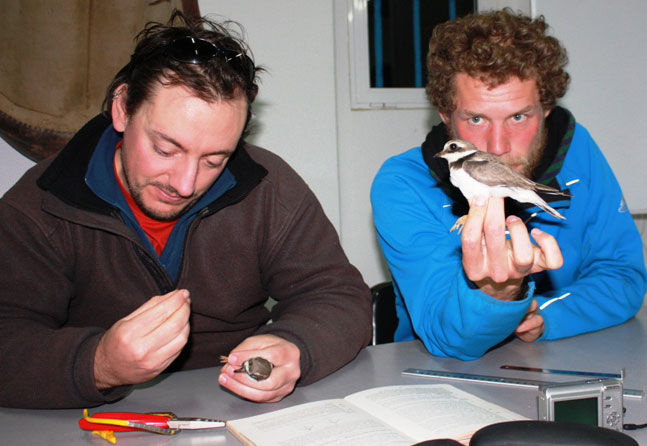 Pedro and Hilger ringing and examining Ringed Plovers before release. (photo © Afonso Rocha)
On the Operation Godwit trips to Portugal the Farlington Ringing Group lead group have now caught c.1200 waders of 16 species of wader with cannon-nets over 10 trips in 35 successful catches around the Tagus estuary. On our trips we have caught birds ringed abroad as follows:
Redshank from The Netherlands & Germany (details still awaited) Avocet from Spain & Sweden (details still awaited on latter) Ringed Plover from Iceland Black-tailed Godwits from Iceland, The Netherlands & UK Sanderling from Iceland - and a Black-headed Gull from Belgium!
The team also spend a lot of time reading rings with telescopes on shorebirds around the estuaries and adjacent salinas (salt pans) while we search for ringed Godwits. We have noted many colour-ringed birds including:
Greater Flamingos, Glossy Ibis, White Stork, Spoonbills, Avocets, Black-winged Stilts, Dunlin, Kentish Plover, Greenshank, Sanderling, Grey Plover, Redshank, Bar-tailed Godwit, Sandwich Tern, Black-headed Gull, Mediterranean Gull and Lesser Black-backed Gulls. So there is plenty to do and never a dull moment!
These birds have been ringed all over Europe. For example: Spoonbills from France and Holland, Flamingos from Spain, France and one from Italy, Avocets from France, Germany and Spain, Black-headed Gull from UK, Lesser Black-backed Gulls from UK, Holland and Iceland.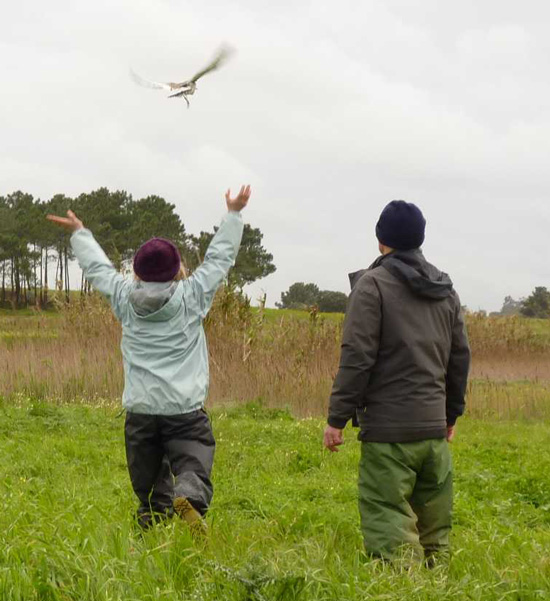 Carol & Dudley Hird release a godwit: they hope to see it again in Kent on their local patch on the Medway estuary in the coming weeks.They have seen Portuguese ringed godwits there before in March on spring migration! Fingers crossed.

(photo © David Price)
Many thanks to Pete Potts for this exciting report, to José Alves, Manuel Lima, David Price, Elisabeth Price, Afonso Rocha, and others for all their excellent photos and finally all those in the team for all their hard work.
Click here for Godwit News Archive