Part of the large flock of Icelandic Black-tailed Godwits at Harper's Island, Cork Harbour, Ireland on the 17th April. (photo © Jim Wilson)
Guðný Róbertsdóttir, a teacher in Siglufjörður, northern Iceland involved in our project from the begriming reported the first Jadrakan (Black-tailed Godwit) of the summer there yesterday. This marks the beginning of the migration the godwits from their wintering grounds all over western Europe to their breeding grounds in Iceland. Large numbers have been building up in Cork harbour and over 2,000 were counted in one flock at a high tide roost in Harper's Island. Project members Jenny Gill and Jose Alves from the University of East Anglia are in Iceland looking for colour ringed godwits as they arrive from Europe. Lets hope they see some of the birds with have seen during the winter.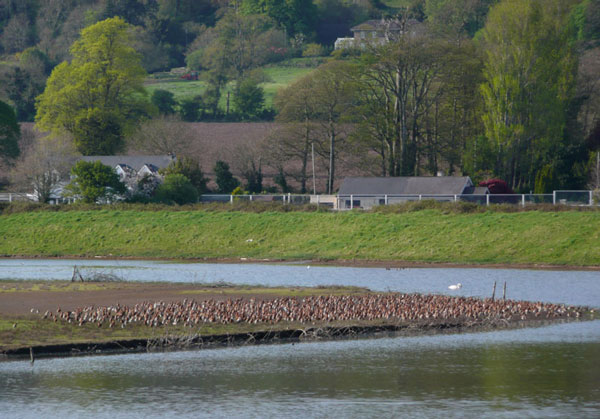 Black-tailed Godwits roosting in Harper's Island, Cork Harbour, Ireland on April 17th. (photo © Jim Wilson)

Many colour ringed birds have been spotted and Mr. McSweeney's class in Scoil Iosaef Naofa in Cobh made their traditional spring visit to Glounthaune to study the godwits and other wetland birds. They were lucky enough to see a colour ringed godwit and they also filmed their trip and are making a short video on their work which they plan to upload to You Tube. Watch this space!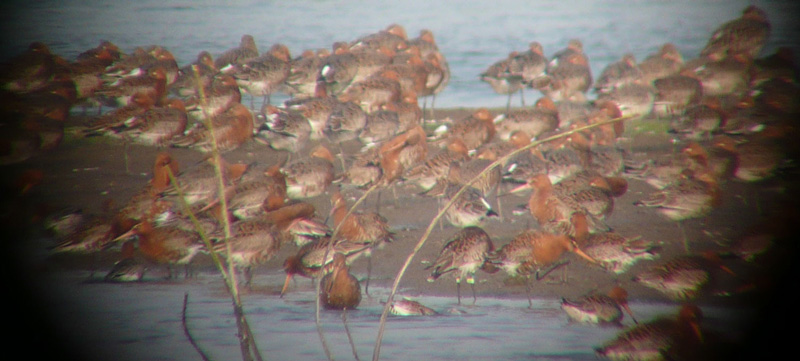 Can you spot Green Lime Green Lime flag in this roost at Harper's Island? (photo © Jim Wilson)
The godwit with the colour rings, Green Lime Green White flag, pictured above, was ringed as a chick close to Siglufjörður in northern Iceland in June 2006. Since then it has visited Harper's Island every year and feeding in a number of locations in Cork Harbour. It also paid a visit to Blyth Estuary, Suffolk, E England in September 2007 and Hen Reebbeds, River Blyth, Suffolk, E England in October 2008. Siglufjordur is where the school that is twinned with our school in Cobh, here in Cork Harbour, and Topsham in England is located.

Jim Wilson has put together a short video piece on the godwit roost at harper's Island and has been uploaded to You Tube. Click Here if you would like to see what gets us so excited while following the fortunes of the amazing Black-tailed Godwits.
Click here for Godwit News Archive