Scoil Iosaef Naofa pupils with their godwit project fridge magnets. (photo © Willie McSweeney)
As is now the tradition at the end of the school year all those pupils are presented with a small memento for their work on the godwit project and as this picture shows they were delighted with them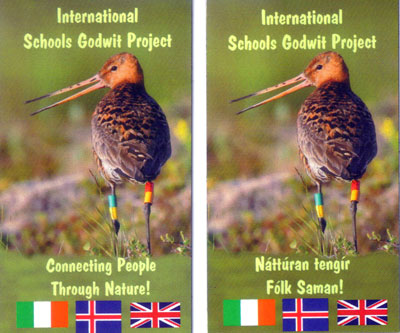 The godwit fridge magnets. (photo © Jim Wilson)
The magnets were produced in Icelandic, Irish and English and the design includes a photo taken by Irish wildlife photographer Mark Carmody. He took the photo on the farm of Lukka Heimisdottir and Laki Sigurbjornsson at Langhus, not far from Siglufjordur.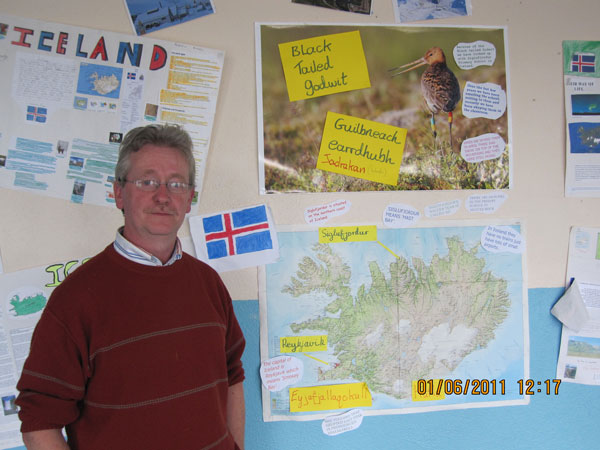 Hard working and inspirational teach Mr. Willie McSweeney from Scoil Iosaef Naofa with some of his pupils end of year project work on Iceland
(photo © Jim Wilson)
Under the guidance and encouragement of their teacher Mr. Willie McSweeney the students learn not only about the godwits but also about the geography, history, culture and language of Iceland. After initial teething trouble they are now successfully Skpying the school in Siglufjordur and are looking at the possibility of doing classes in Irish and Icelandic next year.
With help from Mr. McSweeney and Jim Wilson this year the class made a You Tube video about a day out looking for colour ringed godwits. They learnt all about what goes into making a video from creating a story board to writing the script and recording the narration. The video shows how much fun the student had taking part in the project. There is already talk about doing a joint Iceland/Ireland/UK You Tube video next year.
CLICK HERE TO VIEW THE YOU TUBE VIDEO


Click here for Godwit News Archive