22nd October 2010
Sharp-eyed Students discover Godwit couple traveled together to Cork from Iceland this autumn.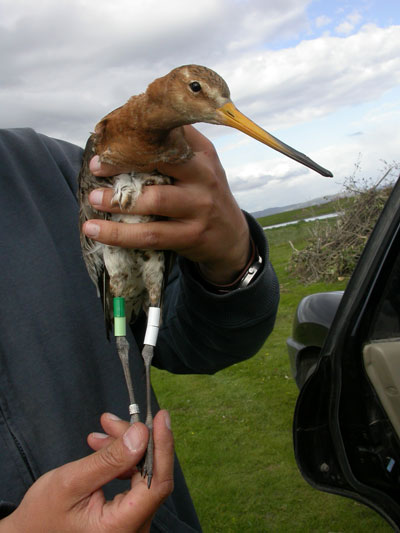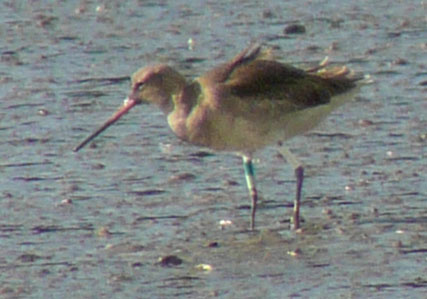 White White Green Lime after being ringed at Bakkar in southern Iceland on the 2nd July 2010 (Left) and seen at Glounthaune Co. Cork, Ireland on 23rd September 2010. (photos ©Dr. José A. Alves and Jim Wilson )
:On our trip to Glounthaune on the 23rd September with the class from Scoil Iosaef Naofa we saw the colour ringed godwit White White Green Lime (WW-GL). The class sent off the sighting to Vigfús Eyjólfsson, the godwit database coordinator, in Iceland. Vigfús sent the class the sighting history which showed that WW-GL was ringed as an adult in July this year and had not been seen anywhere else. They then got the following email from Dr. José A. Alves of the University of East Anglia:
Dear Professor Willie McSweeney and class,
My name is José Alves and I'm Portuguese researched working on the Icelandic Black-tailed godwit project. I've done my PhD on Icelandic godwits wintering on the Tagus estuary, Portugal, the southernmost core wintering area for Icelandic godwits. During my PhD studies I've colour-ringed more than 200 Icelandic godwits which have as a colour-ring scheme marker a dark-green flag on the lower position of the right tibia.
Several have already been recorded in Ireland on their way between Iceland and Portugal.
I'm currently working as a researcher at the University of East Anglia, but now studying Icelandic godwits on their breeding season and I've heard from Jim Wilson that during one of your visits to Cork Harbour, you spotted a recent winged friend of mine, also known as WW-GL !!!
Let me start by thanking you, not only for having spotted WW-GL but also for making sure that he is doing well after his last breeding season, during which he and his partner raised four godwit chicks, hatched on the 2nd of July this year.
The nest of WW-GL was in Bakkar, one of the six study sites we currently survey for black-tailed godwits in the Icelandic southern lowlands. Bakkar is made of mostly dwarf birch bog habitat and it sits on the eastern shore of the Hvítá river. This year we've found six nests at this site and WW-GL was in nest Bakkar 5. It was a nest very close to the dirt track that runs along this site and I found it by chance while driving along and noticing a very suspicious female godwit sneaking out of a pile of grass. I later managed to nest-trap the female, on the 18th of May, and she is now LW-GL (let me know if you spot her!). However, the male of this nest was a bit more clever and did not go into the trap until the hatching day. But after he did, the whole family was colour-ringed and we were able to follow this couple and their little chicks until they were fully grown juveniles and able to migrate south. Now we just need to find them!!!
This last summer was our first season of this study that we are now developing on breeding range expansion of the Icelandic Black-tailed Godwit. The breeding Black-tailed Godwit population in Iceland has been expanding throughout the 1900s and this was not only into new locations, but also into new habitats. We are now interested in understanding the mechanisms that allow for the colonisation of new habitats, which can be quite different from the previous ones (different vegetation, food types, etc…). And also, if where they spend the winter also influences potential adaptations to new breeding habitats. This is why it is important to know where these godwits spend the winter and by finding WW-GL you made a major contribution to this study!
So many thanks once again and I do hope you keep an eye out for WW-GL and his friend on your next field trip to the Irish coast.
All the very best,
José
The class were delighted and very excited to get a letter from one of the scientists working on the godwit project. What was even more amazing was Mr. McSweeney and the class recognised the colour combination LW-GL, partner of WW-GL, checked their records and were amazed to see that Jim Wilson had seen LW-GL less than 5km away on the 1st September!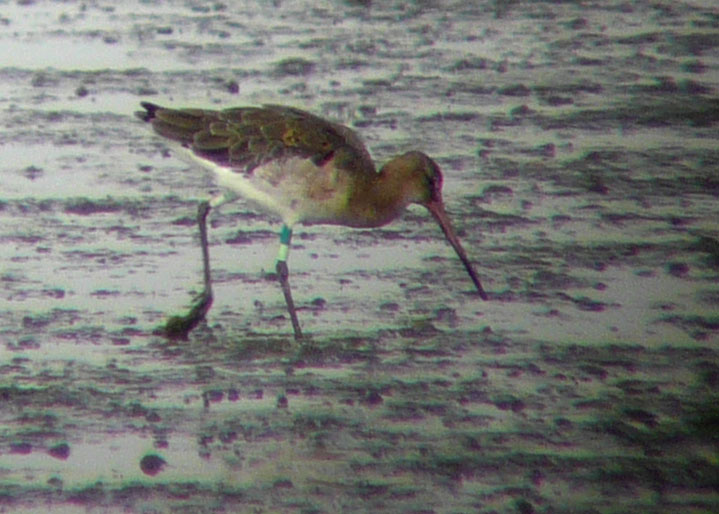 LW-GL the partner of WW-GL photographed at Douglas Estuary on the 1st September. (photo ©Jim Wilson )
Here is what José said when he heard this exciting news:
.Dear Willie and class,

I was not aware that Jim had also recorded LW-GL recently.
This is indeed WW-GL's mate (I've just re-checked it!), which makes it
all very interesting. I believe that this is the first godwit pair that
might winter in such proximity. From previous work, godwit pairs were
found to winter in different countries, let alone 5 to 10 km apart...

Now, it might be that one (or even both) of these godwits were moving
south and just made a stop-over in Ireland on their way to the wintering
grounds. Several godwits ringed in Portugal, do exactly that! So now the
challenge is to look for these two throughout winter to be really sure of
where they spend the winter period.

Let me know if you happen to spot any of these two again.

All the very best,

José

It is discoveries like this that make working on the godwit project so exciting. Will WW-GL and LW-GL stay together in Cork for the winter? Now we must keep a special eye open for them!
Click here for Godwit News Archive