Scoil Iosaef Naofa Students head for Gounthaune again.
Last Wednesday this year's students from Willie McSweeney's class at Scoil Iosaef Naofa in Cobh made their first visit of the school year to Glounthaune to look for colour ringed Black-tailed Godwits and other wetland birds. Local bird watcher and godwit fanatic Jim Wilson joined the group and later discovers where all the godwits were hiding.
First Field trip of the School Year
Report by Trevor Sawyer, Killian Hackett, Alex Costello and Stephen Burke.
16u de Shamhain – 16th November 2011
We left the school at 9.40am and walked down town to the train station to get the 10.30am train. We were accompanied by our teacher, Willie McSweeney and Jacinta McMahon. Jim Wilson met us at the station. We arrived at Glounthaune at 10.40am. The tide was beginning to recede and the day was cloudy but dry. We immediately set about identifying the many waders that were there. We saw a lot of Black tailed Godwits but unfortunately none had any rings! Jim set up his telescope and we were able to get some great views of the birds.
Here is a list of the birds we identified:
Redshank, Dunlin, Curlew, Oystercatcher, Black-tailed Godwit, Bar-tailed Godwit, Wigeon, Lesser Black-backed Gull, Lapwing, Common Gull, Mallard, Teal, Black-headed Gull, Turnstone, Golden Plover, Shelduck and Grey Heron.
We stayed at Glounthaune until 12.10am and then we returned to Cobh. Everybody enjoyed our first filed trip of the season!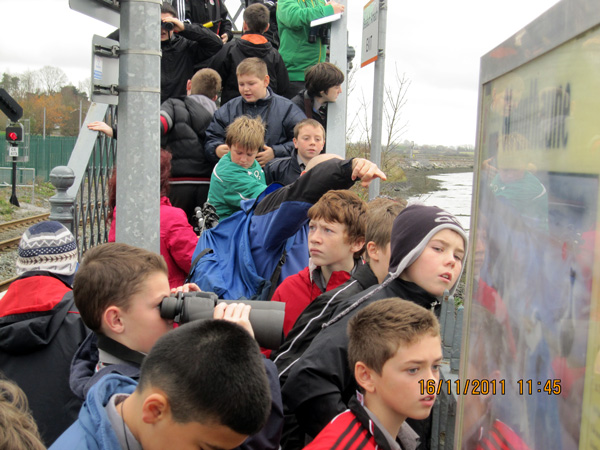 Students looking for godwits at Glounthaune, Cork Harbour, Ireland. (photo © Willie McSweeney)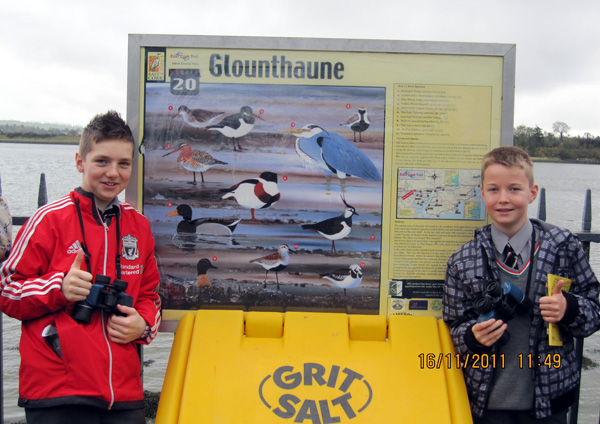 Students at the bird display board at Glounthaune. (photo © Willie McSweeney)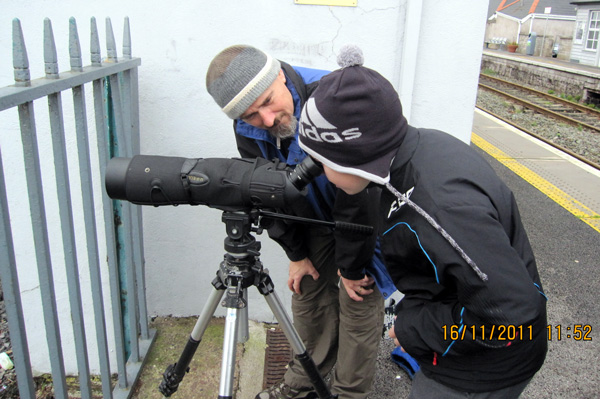 Jim Wilson discussing bird identification with one of the students. (photo © Willie McSweeney)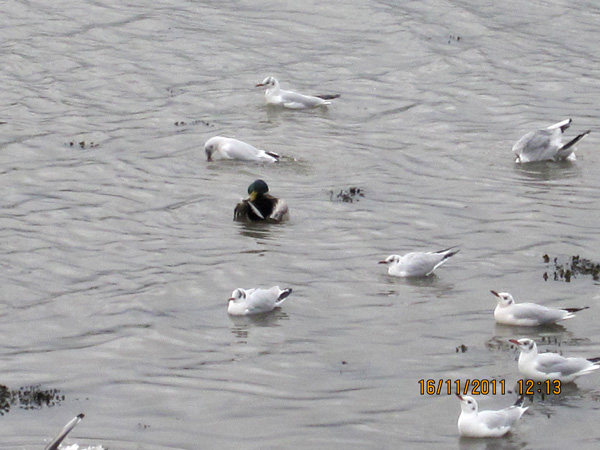 The students got very close views of many of the wetland birds. (photo © Willie McSweeney)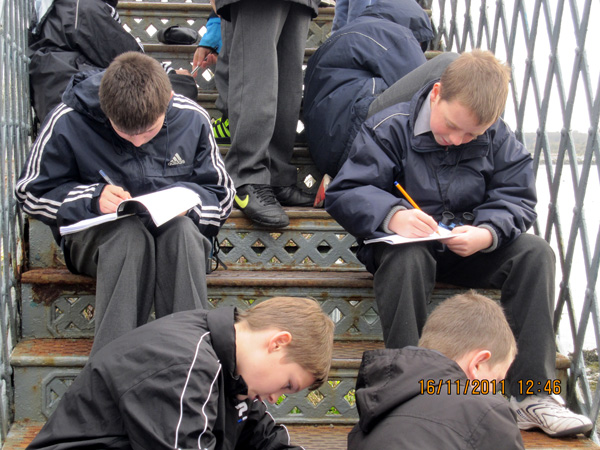 Note taking and sketching is a very important part of the trip. (photo © Willie McSweeney)
We only saw about 20 Black-tailed Godwits on our trip and we were wondering where they were. Last weekend Jim Wilson found out where they had all gone. He found a flock of over 1700 Black-tailed Godwits feeding on one of their favourite wet grassland fields in the area at Slatty Bridge which is about 3km east of Glounthaune. There were seven colour ringed godwits in the huge flock. The students in Cobh and Siglufjörður are now busy studying photos of the flock and attempting to find the colour ringed birds and count them all!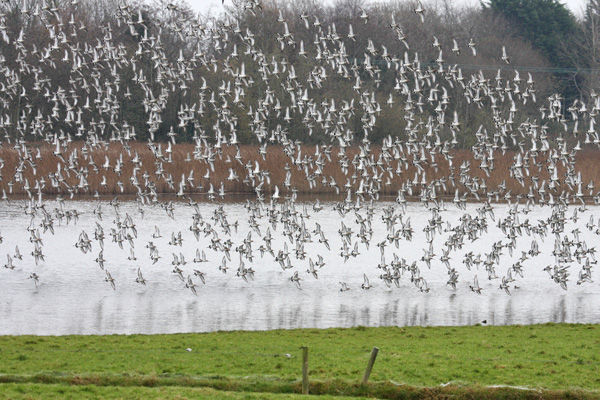 Part of a flock of over 1700 Black-tailed Godwits at Slatty Bridge on Sunday. (photo © Jim Wilson)
CLICK HERE TO VIEW OUR PROJECT YOU TUBE VIDEO
Click here for Godwit News Archive