First Godwit colour ringed on Harper's Island!
For those of you who are regular visitors to our website you will know by now that Harper's Island, in Cork Harbour, is one of the most important sites for Icelandic Black-tailed Godwits in Ireland. We continue to work to make it a safe place for godwits and all the other waterbirds that use this amazing little wetland. Part of our efforts include establishing a programme of scientific research and colour ringing a small sample of the godwits that use Harper's Island is a key part of our work. Recently Cork ringer Barry O'Mahony began studying the site and on his third visit he made the first catch of a godwit on Harper's Island. Hopefully we will be able to catch and colour ring some more and then see how these birds move around their wintering grounds in western Europe and breeding grounds in Iceland. Without ringing the godwits we cannot find out where are the important places for Harper's Islands birds and how we can protect them into the future. The valuable information we gather through sightings of birds like Red Red Double Stripe will allow us to inform goverments of the importance of sites like Harper's Island for godwits and other waterbirds and the need to protect them.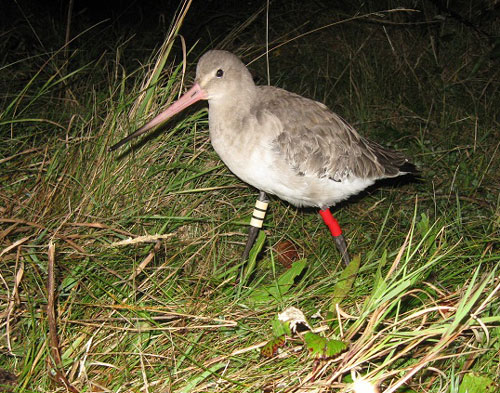 Red Red Double Stripe, the first Icelandic Black-tailed Godwit colour ringed on Harper's Island, Cork Harbour, Ireland, ringed on the 20th October 2012.
(photo © Barry O'Mahony)
CLICK HERE TO VIEW OUR PROJECT YOU TUBE VIDEO
Click here for Godwit News Archive